My scrap bin is overflowing, so I made this skirt entirely out of fabric scraps from my bin. It's a cute, knit mini with a yoga style waistband that's a breeze to make and comfy for playing in. Never sewn with knits? For this project, all you really need to know is to use a ball point needle in your machine. I love knits because they don't fray and they don't really need ironing! This skirt is great in the Fall/Winter with leggings underneath and will be perfect alone in the Spring/Summer.
What You'll Need:
Knit Fabric Scraps (I used 3 colors, a navy waistband, magenta ruffle and grey skirt piece)
Ribbon, for the bow
Ball point needle on your sewing machine
To determine your fabric piece sizes, measure your model's waist circumference and length from waist to just above the knee. My daughter wears a 2T and measures 21" around the waist and about 8" waist to knee. So if your model is the same, you can use my measurements. I made the hem edge of all my scraps from the edge of old tees/dresses so I didn't have to do any hemming!
Band: 19.5" x 4"
Skirt (cut 2): 8" x 13"
Ruffle (measurement with ruffling already done): 24.5" x 6"
I used the ruffled bottom of a dress I don't wear anymore so mine was pre-ruffled. I added a few inches to make it ruffle a bit more when we add the waistband. See below instructions if you're ruffling a piece of fabric from scratch.
To size this to your model:
Band: (waist circumference - 1.5") x 4"
Skirt: (waist to knee length) x (waist inches/2 + 2.5")
Ruffle:
Ratio is about 2:1 so you'll need a piece of fabric about 2x your model's waist measurement x (length from waist to knee - 2"). Here is a good tutorial on
how to ruffle
.
Your skirt and ruffle width will end up about 3" wider than the band (once all are sewn into tubes) if your measurements are correct.
Note: Unless otherwise noted, I used a 1/4" seam allowance. You can click on any of the smaller photos to enlarge them.
Cut out all your pieces.
Make the main skirt (grey fabric). With right sides together, sew the short sides of the knit together. Turn right side out and set aside.
Make the ruffled skirt piece. You want your ruffle to be the same width as the straight skirt. Hold it up to that tube and adjust ruffle so that it's the same size. Then,with right sides of ruffled piece together (magenta fabric), sew the short end. Turn right side out. Now you have two tubes of fabric.
With right sides out, place the ruffle over the skirt and sew or baste together. This will help hold the layers in place when we add the waistband.
For the waistband, fold in half with right sides together so that the short ends meet and sew. Turn right side out. Now you have a tube shape and you want to flod it in half. See below pic to see what I mean by this.
Invert your waistband and place over the skirt (so all raw edges are at the top). Pin evenly. The waistband is smaller and we're going to stretch it as we sew it onto the skirt. Again, your band will be about 3" smaller in width than your skirt pieces.

I probably could have gone even 1/2" to an 1" smaller on the waistband but I want it to fit her all year. As is, it's loose enough for room to grow but snug enough to stay on. Sew with a 3/8" seam (so that we cover the basting we did with the skirt layers), stretching skirt/band as you go.
Then flip your waistband up and topstitch if needed (mine laid nicely so I skipped this). Hem the layers or leave them raw depending on your preference or if you used pre-hemmed pieces like me. Then simply hand sew a ribbon bow on for a fun pop of color and try it on your little miss!
Great play skirt for running (thus the blurry photo)...
For wrestling penguins...
Rolling around...
And of course, crashing cars by driving them off the entertainment center with your big brother...
Gosh I love those chubby elbow dimples!! Happy sewing! :)


As featured on: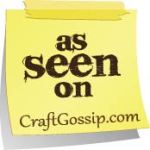 Linking up on: